After a long hard week of packing and moving house ready for my second year of university, a night of pampering certainly sounded like a welcome idea! Thankfully, on Wednesday evening, I was invited to preview the brand new Champneys collection at the luxurious Westbury Hotel in Mayfair! Excited for a night full of pampering and beauty goodies, I headed down Conduit Street and into the beauitful foyer of the hotel where I was greeted by gold accents, plush couches and a swanky bar to chill out in after my long day!
For anyone who hasn't yet heard about Champneys (although if you haven't, I'm not sure where you've been – as it dominates the shelves in Boots at Christmas), it is a gorgeous beauty brand which not only creates fantastic gift sets to relax and unwind at home, but that also has an array of day spas and resorts around the UK – offering spa packages and relaxing weekends away. Champneys previous clientele range from premiership football teams to Kate Moss, Daniel Craig and Victoria Beckham, who have all visited Champneys to put their feet up away from the beady eye of the media and the prying paps. So, you are in good hands! The brand itself is also stocked in Boots nationwide and is famous for its affordable yet luxurious gift sets at Christmas time, which are often frantically picked up by boyfriends, husbands and brothers for their female relatives during the festive rush!
After being greeted by the Kilpatrick PR girls and handed a (much needed) glass of bubbly, I was guided around the luxurious suite that the preview was held in and was able to try out the different collections that are the to be released for the autumn/winter and Christmas season this year!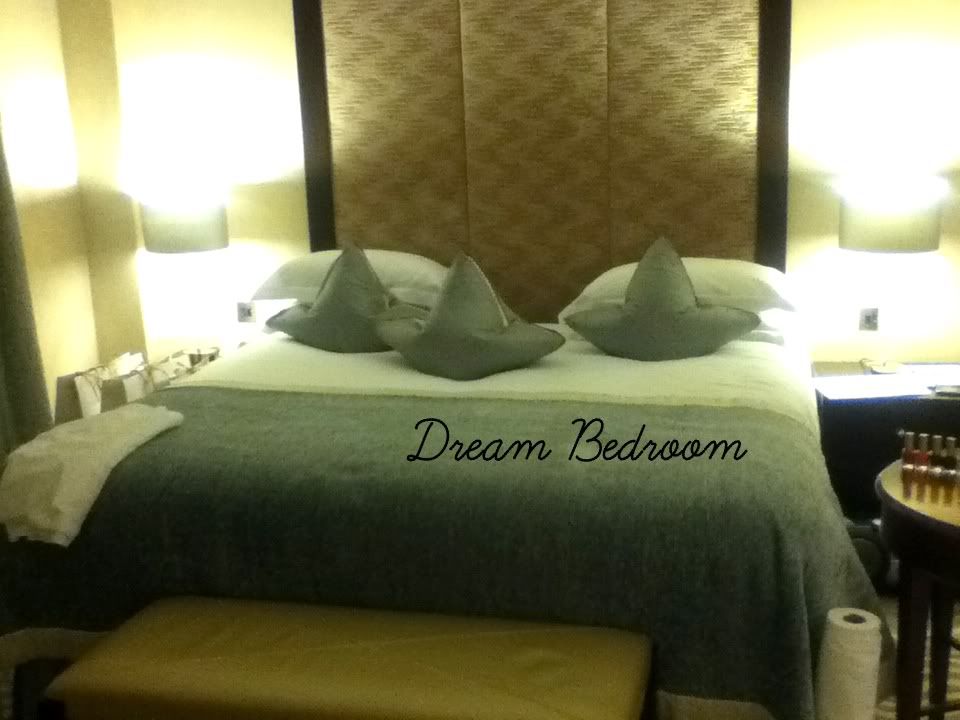 After having a good look at the new collections, and feeling thoroughly relaxed after my glass of champagne, I was delighted to discover that there were plenty more treats in store for us! The Champney's girls were kindly offering hand massages followed by a manicure to each of the guests, so as you can imagine – i jumped straight in! Due to the amount of packing and moving boxes I have been doing all week, my nails were in pretty bad shape, so I opted to have them painted a gorgeous plum colour – which is to be a huge statement colour this autumn/winter! The polish itself was thick enough to give a bold colour in just one coat, and the brush was wide enough to prevent the normal streaks I get when attempting my own nails at home. I was initally surprised to find out that Champneys actually had their own range of nail polishes and was even more surprised when I realised just how affordable the polishes are too! The colour I sampled was included in a four part set for £10, which included a top coat and three gorgeous autumn inspired colours!
Once my new autumn ready matte nails were dry, I wandered around the suite once again, this time spritzing and smelling all the products like a grandmother at the Boots perfume counter (have you ever noticed, they always try loads of scents out at one time!). The main scent that Champneys have gone for this season is a fruity mix of citrus and passion fruit, which featured in the mens collection as well as in the women's – so there is no excuse for any boyfriends, brothers or dads to get in on the act too! The men's gift sets feature a moisturiser, a shower gel and a variety of other goodies to keep skin looking (and smelling lovely) this Christmas, and personally I feel any man would be pleased to have the little Champney's gift set in their stocking! Honestly, I'm not just saying that!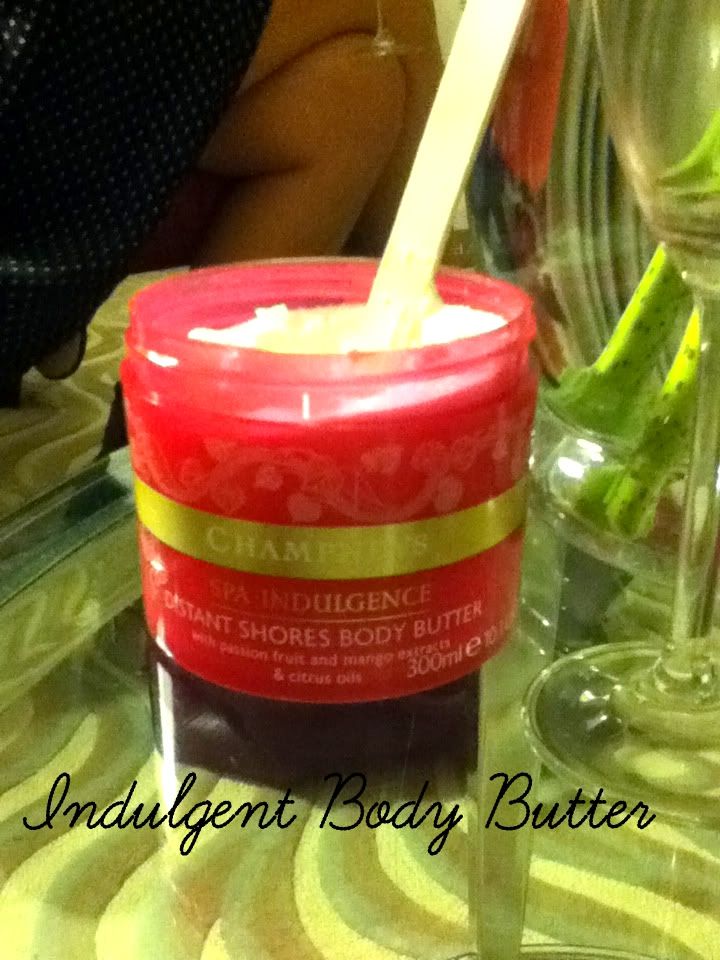 But enough about men! Women will love this collection too, especially the 'Distant Shores' range which includes subtle summery scents (like exotics fruits and citrus oils) mixed with a autumn touch (vanilla musk) to help you make the seasonal transition! I particularly loved the shower mousse which features in the range as which is so soft and leaves skin extremely silky and revived, in comparison to many shower gels and soaps I use which results in skin feeling sticky and dry. The body butter which features in the collection is also a winning product and helps leave skin feeling smooth and hydrated, especially when used with the ever popular Champneys scrub!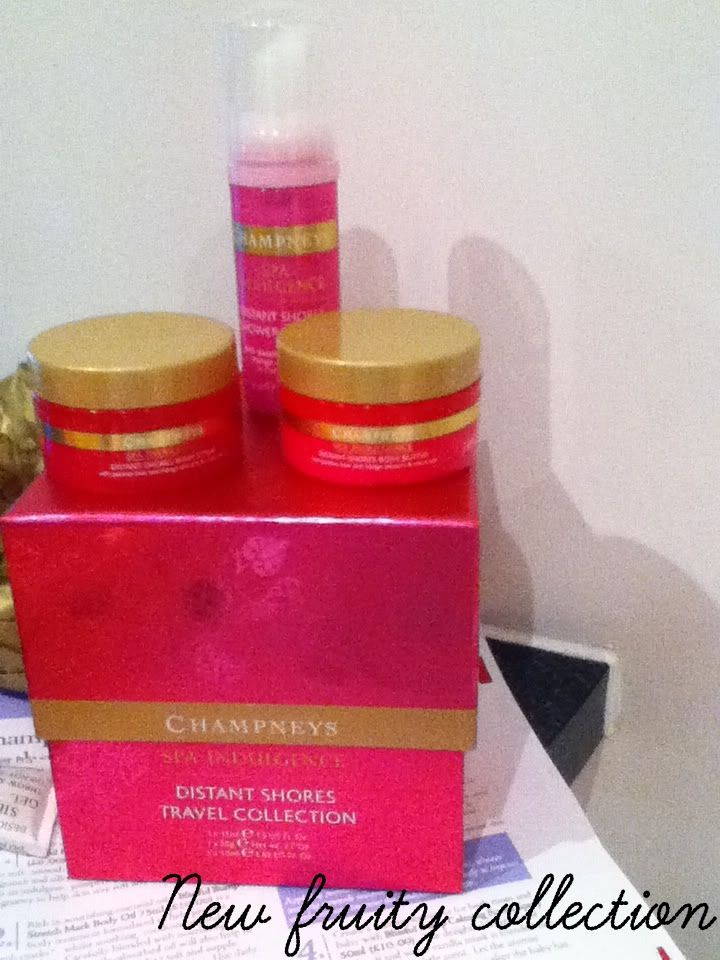 I didn't seem to be the only one who loved the collection, as fellow bloggers who attended the event were also in awe of the delights on display, as we were all sniffing and testing out the products on display in the plush suite and all agreed how gorgeous they were! A gift set would certainly be a welcome gift in my stocking, that's for sure! After meeting and chatting to several of the lovely bloggers who joined me at the event, the best part of the night was yet to come – white chocolate macaroons, which are the most amazing thing I've ever tasted, ever! So, after a hard and rather stressful week – I don't think I have ever felt more pampered in my life! I would definitely recommend a try of the new Champney's range, as like me – I scan guarantee you'll love it! If the delicious scents of the products don't draw you in, then the effect they have on your skin will certainly tempt you!
I would just like to say a massive thank you to Jodie and Karleen at Kilpatrick PR, the Champneys team and The Westbury Hotel for putting together just a fantastic event! I thoroughly enjoyed my evening and it was lovely to be able to have a sneak preview of all the gorgeous new products! You can purchase the brand new Champneys products from Boots, as well as from their various day spas and resorts which are located across the UK. Product prices start from £8 and any spa packages can be bought online. For more info visit http://www.champneys.com/