The sunny surprise of summer has had us all in a haze of fun and laughter this past weekend. If you're anything like me, you will have been searching frantically for that summer fragrance you misplaced in the whirlwind (in some places literally) that was winter. So, I thought I'd share my favourite summer scents with you!
In winter I wear Coco Mademoiselle by Chanel and favour the purse friendly (size wise) twist-and-spray eau de parfum. I discovered this fragrance when I was at college 5 years ago as my friend used to work on a perfume counter of a well known department store and so whenever they had samples in she'd give them all to me; because at 17 you just don't have the expendable cash to spend on something as luxurious as Chanel!
My winter fragrance is something I haven't changed since discovering it, but when it comes to summer; there are just so many new, exciting and delicious perfumes to drench yourself in, I just can't stop myself buying them! I like to smell either fresh and floral, or sweet and fruity in the summer; in the past I've worn CK IN2U and Jean Paul Gaultier! For me, winter is all about eau de parfum and summer is all about eau de toilet or fraiche, because of the heat (fingers crossed UK) I prefer to wear something lighter and fresher; it makes me feel (psychologically) cooler.
I'm going to start with my floral favourite, The Body Shop's Moroccan Rose eau de toilette. The best thing about this fragrance is that the alcohol used within it is community fair traded from Ethiopia. It comes in a 50ml (1.69 US FL OZ) glass square bottle which is small enough to take in your hand luggage and only costs £15. The Body Shop's website describes the scent as 'a romantic bouquet of Moroccan roses, mimosa, vanilla and musk', it's really fresh, soft and light. It also contains community traded Brazil nut oil from the Candela Co-op in Peru; the nuts are hand-cracked to extract the oil from within and are sustainably harvested.
Next up is my new Body Shop favourite – the limited edition White Musk Sun Glow eau de toilette which comes in a 60ml bottle. Sun Glow also has a partner product; the White Musk Sun Glow Body Puree which is a lightweight perfumed moisturiser. This has fast become my favourite leg moisturiser as it leaves my legs silky smooth without any greasy residue, and it smells delicious!
The Body Shop website describes this fragrance as 'a blend of peony, soft peach notes and a shot of zesty lemon. It is elegant, seductive and feminine'. The fragrance also has that iconic, signature scent of (cruelty-free, synthetic) musk. I don't usually like White Musk perfumes; but the addition of fruity elements has given it pride of place on my perfume shelf!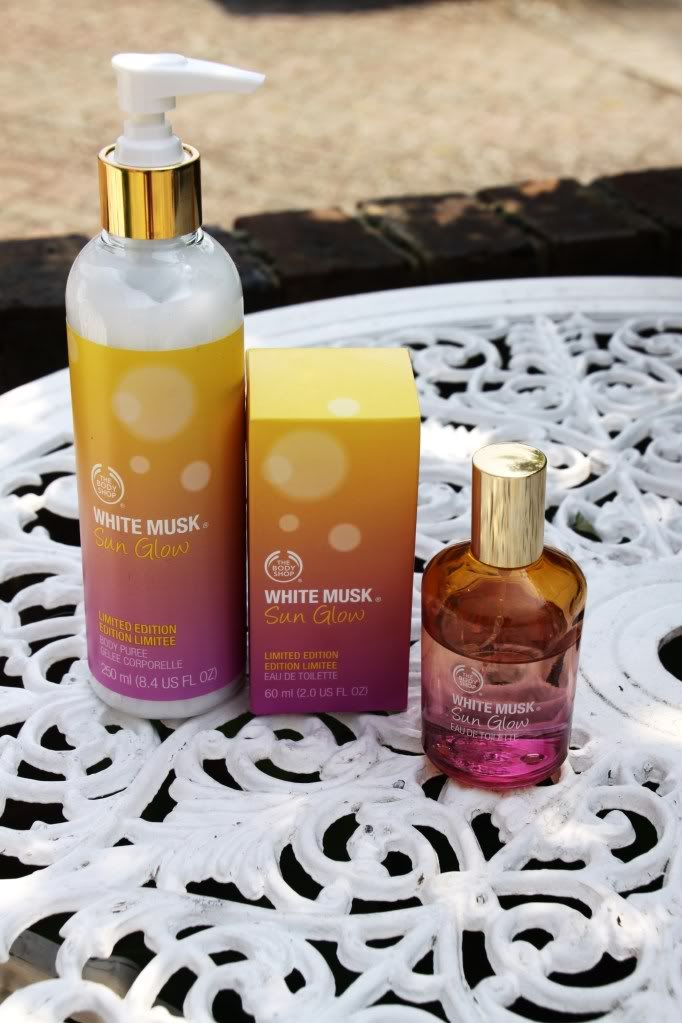 The next scent is Paul Smith's 'Floral' which I discovered at the airport on my way to Turkey several summers ago and I remember spritzing it non-stop. Luckily for me this fragrance has been heavily discounted over the last few years and I can afford have several bottles on the go – which is handy I tend to leave my perfumes in various different handbags.
It's described as having 'bubbly notes of citrus extracts (Orange and Pink Grapefruit) and fresh-picked Ginger. Its heart is composed of a most unique blend of white flowers, Magnolia, Orchid and Osmanthus Blossom. Paul Smith Floral base-notes resonate with the very material presence of Musk and Amber forming a studied harmony with Exotic Wood essences and Tonka Beans. A lot of Boots stores are selling the 30ml eau de parfum for just over £11 and you can find it in some Debenhams stores for around £12, which I think this is a fantastic price for such a fun and memory-inducing scent.
Next on my list is a wonderfully summer-y scent from Jo Malone's 'Jo Loves' range which is simply called 'Pomelo'. This is the most expensive perfume featured in this article; a 30ml bottle can be purchased via Jo's website for £45 and the 100ml for £95.
I do think the luxury and quality of this product reflects the price, this is a much more sophisticated fragrance than I've worn before, but I like that it's a little different. My amazing friend Janna got me this perfume, Janna if you're reading this I am forever in your debt! This fragrance reminds me of one of my favourite drinks, soda water and lime (plain and simple) as it has got this great punch of citrus (which would make sense as the pomelo is a citrus fruit native to South and Southeast Asia). Jo describes the fragrance as the 'feeling of fresh linen sheets or a glass of bubbling fizzy water with a slice of lime and lots of crushed ice' which I think this sums it up perfectly!
The last of my 'summer scents' are from a range I've had the pleasure of testing for the last few weeks, quite suitably named 'Rich Hippie'. These perfumes are great because they're available in a roll-on applicator (perfect for the festival season) they're also organic, 100% natural, and free from preservatives.
The names of the perfumes I've been trying are Rock Star and Foxy Lady, and they come in a 5ml bottle; this might seem small but it is eau de parfum which means it last up to 12 hours on the skin, therefore you use less product less often!
Rich Hippie is a Californian brand so the pricing of the perfumes is in dollars; the 5ml roll-on eau de parfums retail at $45, this may seem a lot of money but these perfumes are created using traditional methods with organic natural ingredients. Rock Star is a blend of 'Indonesian flowers, Madagascan Vanilla Bean and Clove Bud', it smells very aromatic and is very strong when you first apply, so you really don't need to use a lot.
Foxy Lady is a more complex perfume, it contains 'Sumatran Patchouli, Madagascan Vanilla Bean, Chinese Litsea Cubeba, Italian Clementine, Madagascan Ylang Ylang, Tunisian Neroli Blossoms and Blood Orange'. This perfume leads with its citrus notes and has a soft, warm vanilla base, out of the two perfumes I prefer Foxy Lady (I can't stop smelling my left wrist right now). If you're looking for an individual festival fragrance then Rich Hippie is perfect for you, there is a vast array of perfumes to choose from and they all have great names!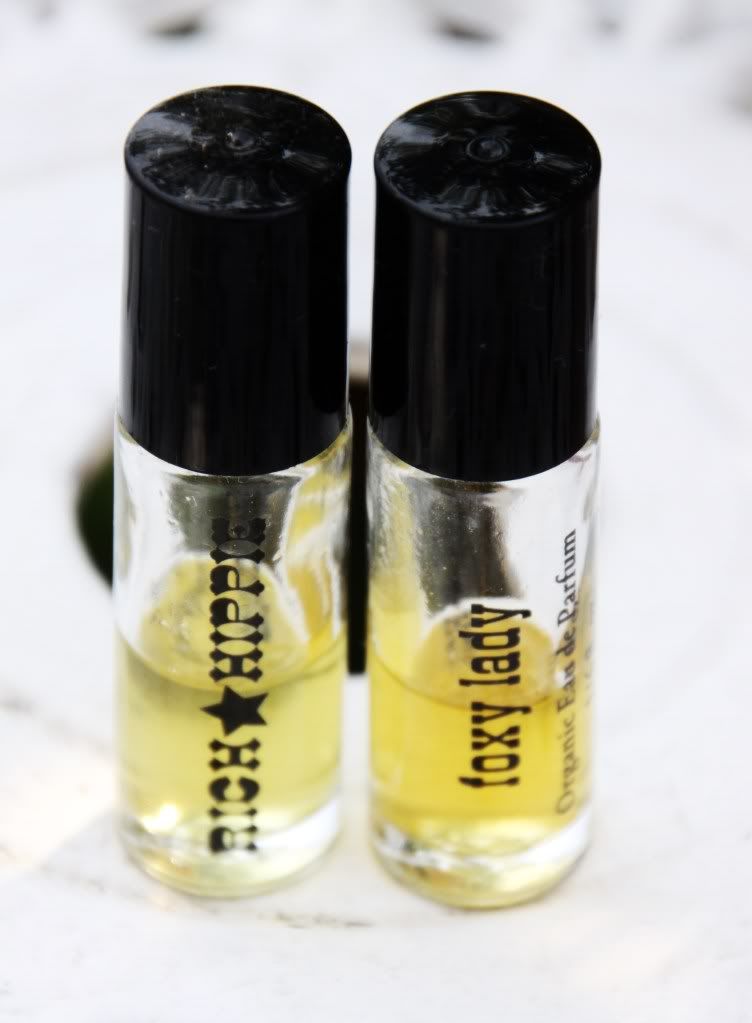 I hope you've enjoyed reading this post; I am going to leave you with a picture of my new sunglasses. My friend Janna made them for me as I was reading a fashion magazine recently and came across a pair of sunglasses with acrylic flowers around the rims. Unfortunately for me they were priced at around £400, an absurd amount of money for a pair of sunglasses I tell you!
Janna and I both agreed that we could probably create something just a fun for a fraction of the cost; and thus Super Happy Sunglasses were born! She hand-glued each flower and pom-pom on, this takes a lot of time and patience (trust me, I tried to decorate a pair and managed one eye before I glued myself together) and the end result is quite frankly bloomin' magnificent! I'll pop a link to Janna's Tumblr and Twitter below. She is a very talented graphic designer, cupcake maker and all round good-time-gal, so if you like these sunglasses give her a little tweet.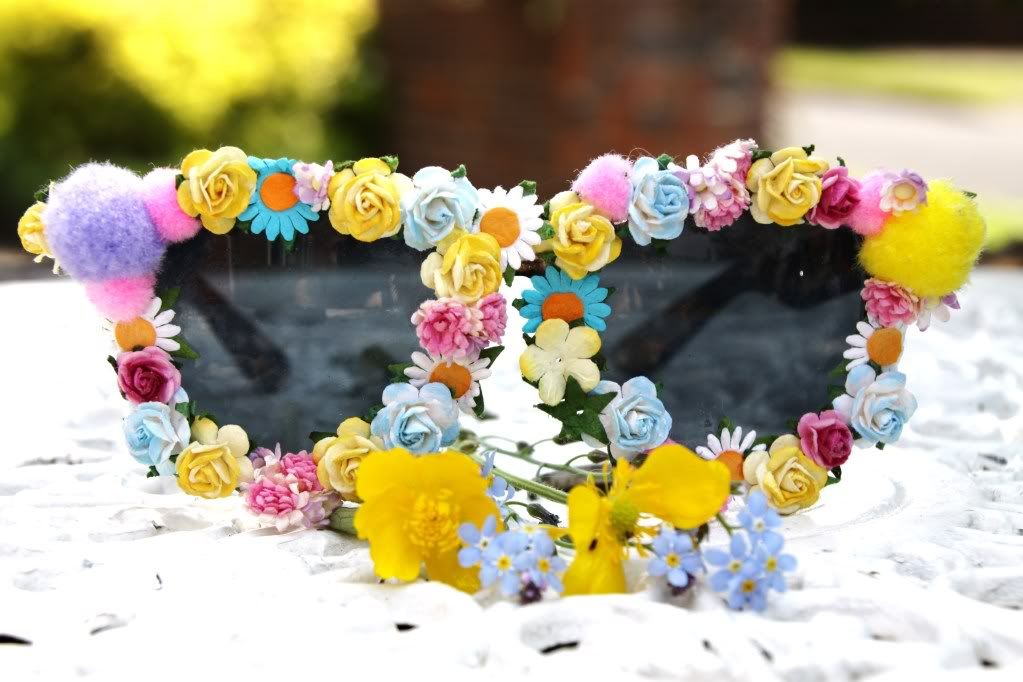 Tumblr: http://havnttheslightestidea.tumblr.com/ Twitter: @JannaBartlett
If you'd like to follow me on Twitter, you will find me @LauraWythe